About
CLASSIC (Community Legal Assistance Services For Saskatoon Inner City Inc.)
provides free, professional and confidential legal services for low-incomemembers of the Saskatoon community who otherwise cannot afford legal advice or representation.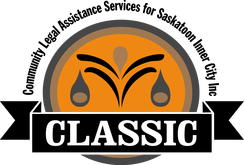 As a free student-run law clinic operating in Saskatoon, CLASSIC has been continuously providing service to the community since February 2007. CLASSIC also works with other community organizations through mutual referrals so that clients' legal and non-legal issues are appropriately addressed.
Opportunities for law students
Students at the College of Law can get involved with CLASSIC through the intensive clinical law program (click on the button below for more details), or as a volunteer. 
CLASSIC runs three programs:
Walk-in advocacy clinic (WAC)
Under a supervising lawyer, law students work on files, go to court, draft court documents, and more.

Legal Advice Clinic (LAC) 
Law students help take notes for lawyers who give advice to low-income individuals with family, civil, and criminal issues.

SIP (Systemic Initiatives Program)
Law students help research and organize in the community to achieve social justice.
College of Law students can elect to work with CLASSIC during the school year, as part of the intensive clinical law program or as a volunteer through Pro Bono Students Canada (PBSC), or during the summer as a volunteer.
More information
Learn more about CLASSIC and the benefits of working with the organization - click on the blue button below to download their infographic, or the green button to visit the website.