Dr. Dwight Newman, QC, professor and Canada Research Chair in Indigenous Rights in Constitutional and International Law, along with Dr. Ibironke Odumosu-Ayanu, associate professor, began developing the book in 2017 after a series of discussions and events on the subject—one they felt required further research and sustained attention than it was receiving at the time.
"I had been conducting SSHRC-sponsored studies of contracts in the oil and gas industry and during the course of this work, I found that there was growing interest in Indigenous-industry agreements," explained Odumosu-Ayanu, adding that she also received a Law Foundation of Saskatchewan Fellowship which allowed her to research agreements within a Canadian context.
"Dwight had also been writing on related issues and we began to discuss our shared interests in these agreements," she said. "The available literature, while important, did not capture many of the important issues and we sought to respond to this gap."
In 2017, they hosted an international, interdisciplinary, and cross-sector workshop where they explored questions raised by Indigenous-industry agreements. The workshop was funded by a Social Sciences and Humanities Research Council (SSHRC) grant with further support from the Canada Research Chair in Indigenous Rights in Constitutional and International Law and the College of Law.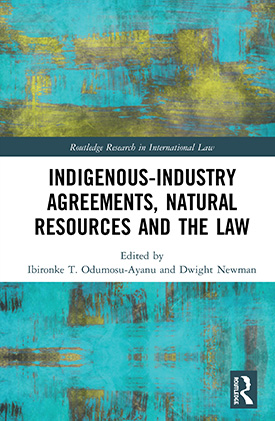 "We gathered together the very best people we could find who could foreseeably write something important on Indigenous-Industry agreements. So we had people in from Australia, the United States, other parts of Canada and from right here at USask too," explained Newman. "Once we had that lined up, we approached the publisher with the proposal for a collection coming from it."
Newman said the book will be of interest to academics, practitioners, Indigenous communities, industry, government, and people in a variety of sectors impacted by these developments.
"The book brings together a lot of knowledge and ideas on this topic. People might draw upon some of these ideas in thinking differently on how to frame IndigenousIndustry agreements in taking account of gender or Indigenous law or any of a variety of things," said Newman. "Governments might look at the book and think about the issues raised on regulation on transparency issues or intersections with environmental issues and draw from the book too."
Newman emphasized that the book is not about setting out exact changes to agreements; rather that it is meant to start more conversations on the topic.
"We hope others will join in the further study of Indigenous-industry agreements and that with good research, important changes will be supported over time."