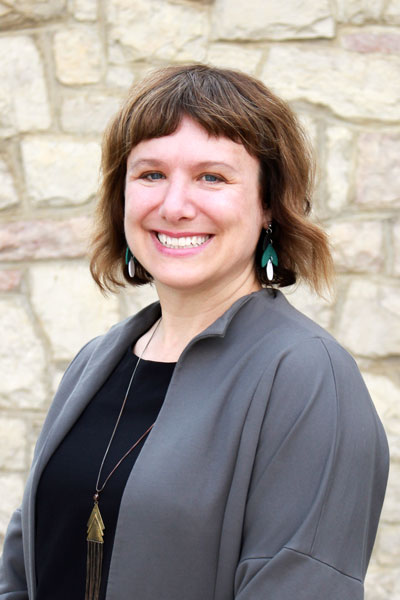 In the realm of legal academia, some educators not only impart knowledge but also ignite a spark of change within their students and within their community. Sarah Buhler, an Associate Professor at the College of Law at the University of Saskatchewan, as well as an alumnus of the University, stands as a testament to this idea.

She is being honoured this fall with a USask Alumni Achievement Award in the Outstanding Impact category for her commitment to community-engaged research and teaching and her leadership in the legal profession.

Sarah Buhler was born in Saskatoon. Her interest in social justice has deep roots and has been a prevailing theme of both her legal practice and academic work. She grew up in Bangkok, where her parents worked in international development in Thailand and Vietnam. She moved back to Canada to pursue her postsecondary education.  Following her undergraduate degree, Sarah worked for two years as a volunteer coordinator for a drop-in centre in Winnipeg's west end. There, she worked directly with community members experiencing poverty, addictions, and oppression.  She studied law in Toronto, and then moved back to settle in Saskatoon.  She received her Master of Laws (LL.M.) at the University of Saskatchewan.
Buhler's career path has been unconventional, from working at a private law firm to joining a community legal service and then transitioning to academia, which has led her to approach her work with a unique perspective. Her journey included serving as the first executive director and supervising lawyer at Community Legal Assistance Services for Saskatoon Inner City (CLASSIC), an organization that provides free legal services for low-income residents, and that has received local, national, and international recognition. Buhler transitioned into her role as a faculty member at the College of Law in 2010. This diverse background has empowered her to bridge the gap between academia and real-world legal challenges.

Buhler's reaction to receiving the Alumni Achievement Award was one of humility and appreciation. "It's such an honor," she shared during an interview.  "But also, I think I don't love being the center of attention." Despite her modesty, her accomplishments and influential work have certainly not gone unnoticed and have brought about significant positive change. Her journey to this point has been paved with a dedication to community-engaged research and have been rooted in her deep commitment to advocating for marginalized individuals. "I think being involved with CLASSIC, really, since its inception, has been just such a privilege."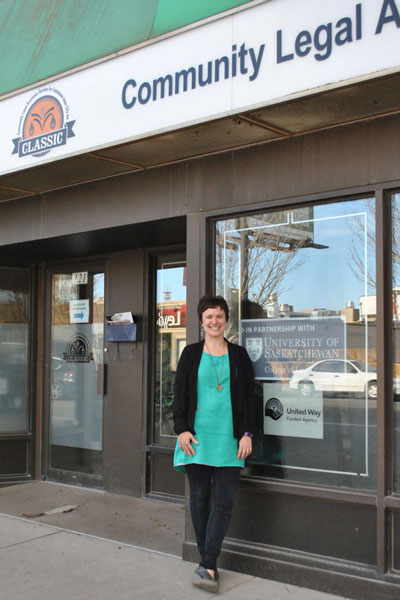 Throughout her career, Buhler has spearheaded meaningful initiatives and projects that highlight her dedication to community engagement and interdisciplinary collaboration. She played a pivotal role in the creation of CLASSIC and has been associated with national organizations promoting clinical legal education, which emphasizes experiential learning through work with real clients. She co-wrote a book (along with Gemma Smyth and Sarah Marsden) about clinical legal education in Canada, and was honoured by the Association for Canadian Clinical Legal Education, which named an award after her.  Her work extends even further, as she was a long-standing board member of STR8 UP, an organization that assists individuals exiting gangs in Saskatoon.

One remarkable project Buhler helped create was a non-credit class that united law students, undergraduate university students, and former gang members who were members of STR8 Up.  The students studied legal texts and literature that dealt with the criminal justice system and its impacts, learning directly from each other about the impacts of law and criminal justice processes.  It was a transformative experience for participants. "I've been able to collaborate across disciplines and be part of some really awesome educational experiences. So, throughout my career I've been a part of incredible community experiences that although are not part of my job description, have shaped its direction," Buhler explained.
Buhler has been able to forge a space where her unique interests and values thrive. "What I care about is how law is affecting people who are being harmed by systems", she explains. Buhler's passion lies in exploring how the legal system impacts communities and advocating for positive change.

The impact on the University of Saskatchewan on Buhler's career cannot be understated. "The university gives me the freedom to pursue community engaged research and I am able to work on things I am passionate about. Faculty positions are some of the most privileged positions that we've got out there, and for me this comes with a responsibility to try to do work that engages with communities that are working on addressing important societal issues." she emphasized.

When asked about mentors or figures who have influenced her journey, Buhler cites a range of individuals across disciplines who have been pivotal in her growth. From colleagues at CLASSIC and the College of Law to professionals at organizations like the Gwenna Moss Centre for Teaching and Learning, Buhler's network has played a substantial role in shaping her success.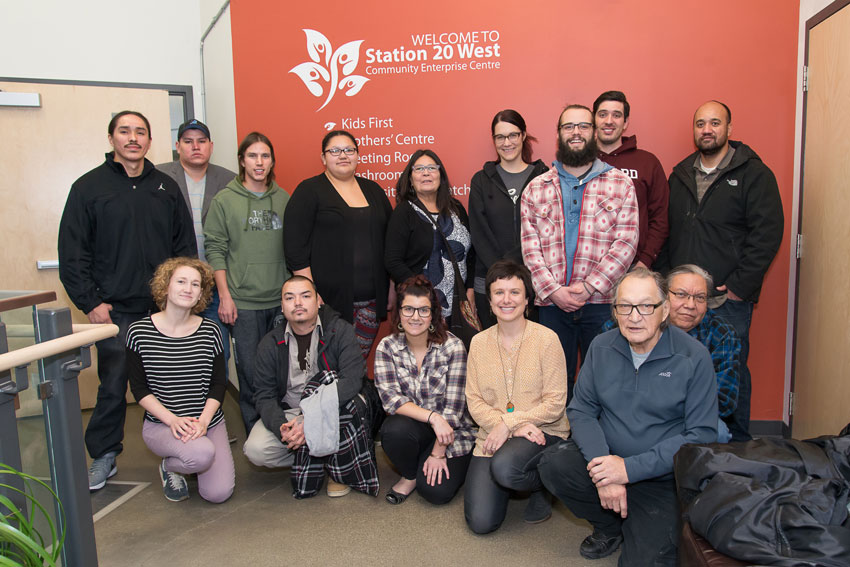 "Sarah is a change-maker. She is courageous, clear-sighted and collaborative all at the same time.  She models what is essential inside legal education, as we prepare 'lawyers of the future'.  I'm so grateful that she is my colleague," said Michaela Keet, Professor at the University of Saskatchewan.

Buhler is dedicated to staying true to her principles and continuing her impactful work. Her ongoing research focuses on housing law, a field currently facing critical challenges. "That really has emerged from my connections at CLASSIC because they do a lot of housing law advocacy. The students working there are often representing tenants and CLASSIC is often confronting different systemic issues related to housing." She collaborates with national organizations like the Canadian Centre for Housing Rights and The National Right to Housing Network, for research and to advocate for change. "I love being able to connect local with seeing things that are going on across the country."  She is currently the Principal Investigator of a project in collaboration with the National Right to Housing Network and the Canadian Centre for Housing Rights that focusses on exploring legal solutions to preventing evictions of youth from rental housing.

Buhler also believes in mentoring students and involving them in research, emphasizing collaboration over solo pursuits. Buhler's advice to current students and aspiring academics centers on following one's heart. She encourages individuals to pursue what they are passionate about, even if it appears unconventional or risky. Buhler's own trajectory attests to the power of embracing one's passions.

Looking ahead, Buhler envisions her work as a continuation of her collaborative and community-focused approach. She remains committed to making a difference by connecting with national and local organizations, engaging students in meaningful research, and addressing pressing issues, such as housing rights. Her ongoing dedication to advocacy and research promises to shape the legal field for the better.

Sarah Buhler's journey is a testament to the power of following one's passion, embracing unconventional paths, and committing to making a difference. Her dedication to community engagement, her pioneering work in clinical legal education, and her passionate advocacy for marginalized individuals have left an indelible mark on both her university and the broader legal landscape. As she continues to inspire and drive change, Buhler's impact promises to be enduring and transformative.