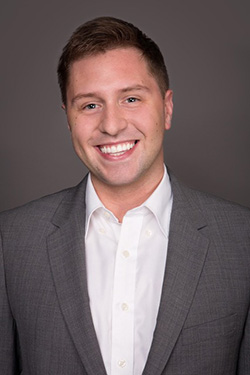 Five minutes before the 2021 Dean's Forum was about to begin, third-year law student Levi Graham received a call that left him speechless. The Honourable Justice Brown was on the other line, letting him know that he had been selected for a 2022-23 clerkship at the Supreme Court of Canada (SCC). 
"The first thing I did was email the dean, and then I had to immediately present at the Dean's Forum. I really didn't have time to process things until later," said Graham.
Mackenzie Stewart (JD'20) received a similar call and said she was truly blown away to find out that she would be clerking for Justice Moldaver of the SCC. "I think I spent about three minutes just stammering into the phone," she recalled.
Stewart and Graham landed two of the 36 clerkship positions available. During their clerkships, they will research points of law, prepare memoranda of law and generally assist their judge in the work of the Supreme Court of Canada in Ottawa. 
Growing up in Rockglen, Sask., Stewart graduated high school in a class of 12 and went on to receive a degree in political studies from USask. She estimates she's held 16 different jobs since she was 15 years old. "I did everything from painting houses to working as a finance student—even with no finance background."
While in law school, she was enrolled in the Certificate in Common Law French program, performed at Legal Follies, helped edit the Caveat Lector and was part of the Sisters in Law organization. She also volunteered with the youth poetry organization Write Out Loud, is a Girl Guide leader and played roller derby.
Stewart is currently clerking for fellow USask law alumnus Justice Denis Pelletier (LLB'80) of the Federal Court of Appeal. She said although the experience has been less interactive because of the pandemic, she is having fun deep diving into difficult problems in areas like intellectual property law and administrative law.
Following her clerkship, Stewart is considering grad school and would like to pursue a career in litigation, but is still unsure of what area she wants to practice in. For now, she is content with focusing on her current and future clerkships. 
"I have been incredibly lucky in finding support and affirmation from the legal community at USask. I was fortunate to have people like Caroline Magnan, Doug Surtees and Michael Plaxton who believed in me and helped me along the way," said Stewart, adding that she would encourage students to make connections with professors as they make their way through law school.
Graham made a similar case for making connections through law school, admitting it was one of the reasons he believed a SCC clerkship was within reach.
"I didn't really decide to apply at any discrete moment. It's something that interested me, but seemed unattainable," he said. "However, as I progressed through law school, my wonderful professors, student colleagues and practicing mentors encouraged me to apply—so I did."
Before Graham begins his work at the SCC, he will spend the next year clerking for Justice Stratas of the Federal Court of Appeal.
"Justice Stratas is a gracious, brilliant and vibrant individual whom I admire without end," explained Graham. "I couldn't have asked for a better mentor and I am so excited to begin working for him."
Graham, a Métis and a first-generation law student, grew up in Saskatoon and Phoenix, but has also called Montreal, Regina, Vancouver and soon Ottawa, home. During his time at the College of Law, he has been involved in several activities including the Gale Cup, the Kawaskimhon Moot and student mentorship. He has served as a member of the Saskatchewan Law Review editorial board, was a participant in the 2021 Dean's Forum on Access to Justice and is currently president of the Legal Philosophy Club. After completing his clerkships, he plans to rejoin the team at Blake, Cassels & Graydon LLP in Vancouver. 
When asked if there was anything he wanted to add, Graham made sure to note that he was deeply indebted to Professor Dwight Newman, QC, for his mentorship and friendship.
"He has taught me so much—sometimes implicitly so. He has also guided and propelled me to other successes," said Graham.
One could perhaps call it a full circle moment, as one of the last times USask's College of Law had two students clerk at the SCC in the same year, their names were Brent Kraus (LLB'98) and Dwight Newman (JD'99). 
Note: The College of Law also sent two alumni (Robert Martz and Kristen MacDonald) to clerk at the Supreme Court of Canada in 2011.