This year, the moots played out entirely online. Students were given a trial judgment of a private nuisance case and partnered with another student to argue as either appellant or respondent against another pair of students.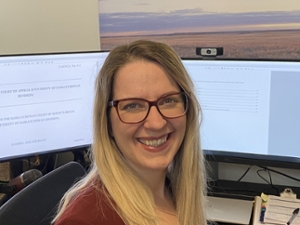 "First, students file their written arguments as factums. Normally they would argue their case in person at the college, before a panel of three judges including a faculty member, an upper year student and an alumnus, but this year it was all done over video conference," explained Tamara Larre, one of the instructors for the LRW course. She added that the moots are a rite of passage for every law student.
Leah Howie, the other instructor for the course, said she was extremely impressed with everyone's performance and their ability to present their arguments effectively online.
"It seems reasonable to assume that online hearings will continue in some manner even after the pandemic," she said. "These students now have valuable experience making submissions online which will serve them well in their legal careers."
The shift to online moots also meant that the college could attract volunteer alumni from across Canada.
"The response from our alumni was overwhelming and judging spots filled up in a matter of minutes," said Howie.
Alumnus James Kent Donlevy (JD'84), a grievance officer for the University of Calgary Faculty Association, said his experience participating as a justice in the first-year moot was delightful.
"The students were very articulate and clearly well-prepared. I'm grateful for the opportunity to reconnect with the College of Law."
Martin Phillipson, Dean of Law, said the positive response from people like Donlevy is proof that the college's alumni community is strong and supportive. He also noted the huge amount of time and effort that went into planning an exclusively online event.
"Nicole Brown, Leah Howie and Tamara Larre did an excellent job preparing for the moot court hearings via video conference," he said. "The hard work done behind the scenes certainly contributed to an enjoyable experience for everyone involved."