As part of the negotiation and dispute resolution course, Professor Michaela Keet from the College of Law worked with Dr. Susan Hayton (MD) from the College of Medicine to co-ordinate an assignment involving students from both colleges. The assignment looked at a tort action currently in litigation where statements of claim and defence had been filed and the litigation was in the discovery stage. Each law student was assigned a medicine student as a 'client' and was tasked with interviewing and preparing with them. The second phase of the assignment was to negotiate on camera at the CLRC, followed by a review of the video, and a discussion and evaluation of the strategies taken.
Co-ordinating 33 groups to meet and be recorded is no small task, but it was all made possible thanks to the CLRC's 24 clinic exam rooms equipped with web conference and recording software.
Malcolm Whyte, a simulation technology specialist at USask Health Sciences, oversees the technical aspects relating to health-care simulation on campus and said the rooms are set up to simulate a primary care clinic such as a family doctor's office or a walk-in clinic space.
"It was excellent to see the Colleges of Law and Medicine collaborate for this course in our space designed for interprofessional learning," he said, adding that he anticipates these types of collaborative assignments will only increase in number.
For law students, the chance to participate in a simulated negotiation scenario was found to be deeply beneficial.
"Representing actual medicine students made the experience seem more real," said second-year law student Madeleine Chauvet. "I felt an added layer of responsibility and didn't want to let him down."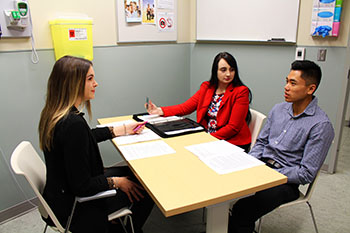 And while very few people enjoy watching themselves on video, it proved to be a valuable tool for improvement.
"I had the opportunity to watch my negotiation video and it was extremely helpful to identify areas of improvement and also to analyze my body language and tone of voice," said law student Dani Nichols.
Medicine student Benson Tam said the experience helped him gain a better understanding of the integration of law and medicine.
"As medical students, we really focus on learning the heart of medicine, but we forget about how many different systems work together to ensure the safe practices for us and our patients," he explained.
According to Dr. Sheryl Mills (PhD), associate director of academic programs and interprofessional education at USask Health Sciences, providing opportunities in university- professional settings for students to practice skills, receive feedback and make changes in their practices is critical to the development of collective competence.
"Any time our learners have an opportunity to connect with colleagues from other programs, it is beneficial," she said. "Professors Michaela Keet and Dr. Susan Hayton have created a great opportunity. It's an initiative I can imagine expanding moving forward."
This story was originally published in the Spring 2020 issue of of NOTE.