"My grandma told me when I was five that I should be a lawyer because I had a lot to say," said French. "I would have never come to Saskatoon without being accepted to USask, but so far I've really enjoyed it."
In 2019, French travelled to Africa to learn about the Rwandan Genocide after seeing the opportunity advertised on a poster in the law building. While she raised most of the funds for the trip herself, she also received a $200 travel award through the International Student and Study Abroad Centre (ISSAC).
While speaking with French, it was apparent that she had learned a great deal, not only about the Rwandan Genocide, but about the culture and history of the country. Her 16-day trip included listening to first-hand testimony from genocide survivors and rescuers as well as visitations to memorials.
French remembers the visit to the Murambi Genocide Memorial Centre as the most impactful part of the trip.
"The history behind the memorial was that it was going to be a technical school," she said. "They built it with dorms and classrooms and it was beautiful—situated on top of a hill surrounded by more hills."
In 1994, the would-be technical school turned into a mass grave for more than 40,000 Tutsi people.
Seeing skeletons and mummified bodies during a tour of the memorial was an eye- opening experience for French.
"You could still see pieces of their clothing, their facial expressions," she recalled. "These were human beings who were killed for nothing, only because of who they were."
During a visit to the University of Kibungo, French's tour group had the chance to speak with student survivors.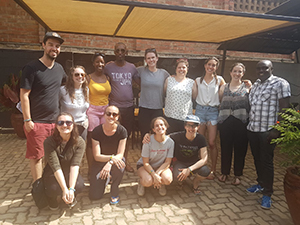 "Their one request was to go back to Canada and just talk about it. Just tell people 'this is what happened,'" said French. "So, I guess if I get through to one person, I can achieve that."
When asked what she would want of NOTE readers to know about the Rwandan Genocide, she emphasized two things.
"First, it is important not to just take things at face value," she said. "There's a deep-rooted history behind the genocide. The way it's sometimes portrayed is that people all of a sudden went crazy and started killing their neighbours. There's so much more history and influences of colonialism behind it."
"The second thing is, hate is learned. No one is born hating another person. It's learned. It's taught."
French recalled how the reaction she received when talking about her trip upon returning to Canada was not always positive.
"I was once told I sounded like a rich little white girl who was trying to solve the world's problems," she said. "But, I didn't go to try to find a solution, or give a solution, I went there to listen. I just want to try to attempt to understand a lived experience and bring attention to it."
The trip has also caused French to approach her education differently. She now better understands how each situation has many perspectives. Something she now considers when looking at the Genocide Convention, for example, is who was sitting at the table when that convention was written.
"It's not about thinking there's a right and a wrong," she said. "It is living more in a gray space and considering different influencing factors."
Following graduation from the College of Law, French hopes to article internationally and eventually land her dream job as counsel for the United Nations. But first, she has two more trips planned this summer. The first is an immersion learning course on the Holocaust that will take her to Berlin and Prague, as well as Krakow and Lodz in Poland. The second, will be a return trip to Rwanda. This time, she will act as a facilitator for a new group of students wanting to learn about the genocide.
"Some people asked 'why would you go to Rwanda?'," she said.
Her answer is simple: "I really just want to learn as much as I can. It's one thing to learn about it in books and movies, but to actually go and see it with your own eyes, hear the stories, and listen to people's experiences, it gives another layer of learning that I don't think is otherwise possible."
*This story originally appeared in the Spring 2020 issue of of NOTE and was written before COVID-19 was declared a pandemic.