Now in its sixth year, the ceremony has become an inspiring tradition which brings new students and their family and friends together with honoured guests from the legal community, and College of Law faculty, alumni and supporters, in celebration of the achievement of entering law school.
Dean Martin Phillipson acknowledged this as a 'particularly special year', in reference to the launch of the new Nunavut Law Program, which welcomed 25 new students at its own welcoming ceremony in the territory's capital Iqaluit on Sept. 11.
"I am delighted that this means we have 154 new students this year, which is by far and away the largest first year class we've ever had," said Phillipson. "We are enormously proud to have two cohorts, and we will do our best to make them one cohort." 
The college welcomed cultural advisor and celebrated Métis author Maria Campbell to open the ceremony with a blessing in Cree. Dignified guests attended the event to bring greetings to the class as follows:
Grant Vogeli from Burnet, Duckworth & Palmer LLP; Justice Gwen Goebel from the Court of Queen's Bench of Saskatchewan; Judge Marilyn Penner, from the Saskatchewan Provincial Court; and President Peter Stoicheff, from the University of Saskatchewan.
The greetings included wise words to the new students from experienced legal professionals who were all once students themselves.
The students were advised to persevere in the face of impending adversity, to focus on the honourable and critical role that lawyers play in society, to find time to have fun and build friendships, and to enrich their education by learning from fellow classmates' life experiences and perspectives. 
Roy Romanow, current Chancellor of the U of S and former premier of Saskatchewan, who himself graduated from the College of Law in 1964, delivered the ceremony's keynote speech. 
He spoke of the "large and complicated moral question of justice" and lawyers' great responsibility to create a fair and just society, which protects the vulnerable and promotes society's well-being as a whole.
"Lawyers must vigorously represent their clients and causes, but also maintain that we as lawyers should represent the hopes, the ideals, and the dreams of a greater society," he said.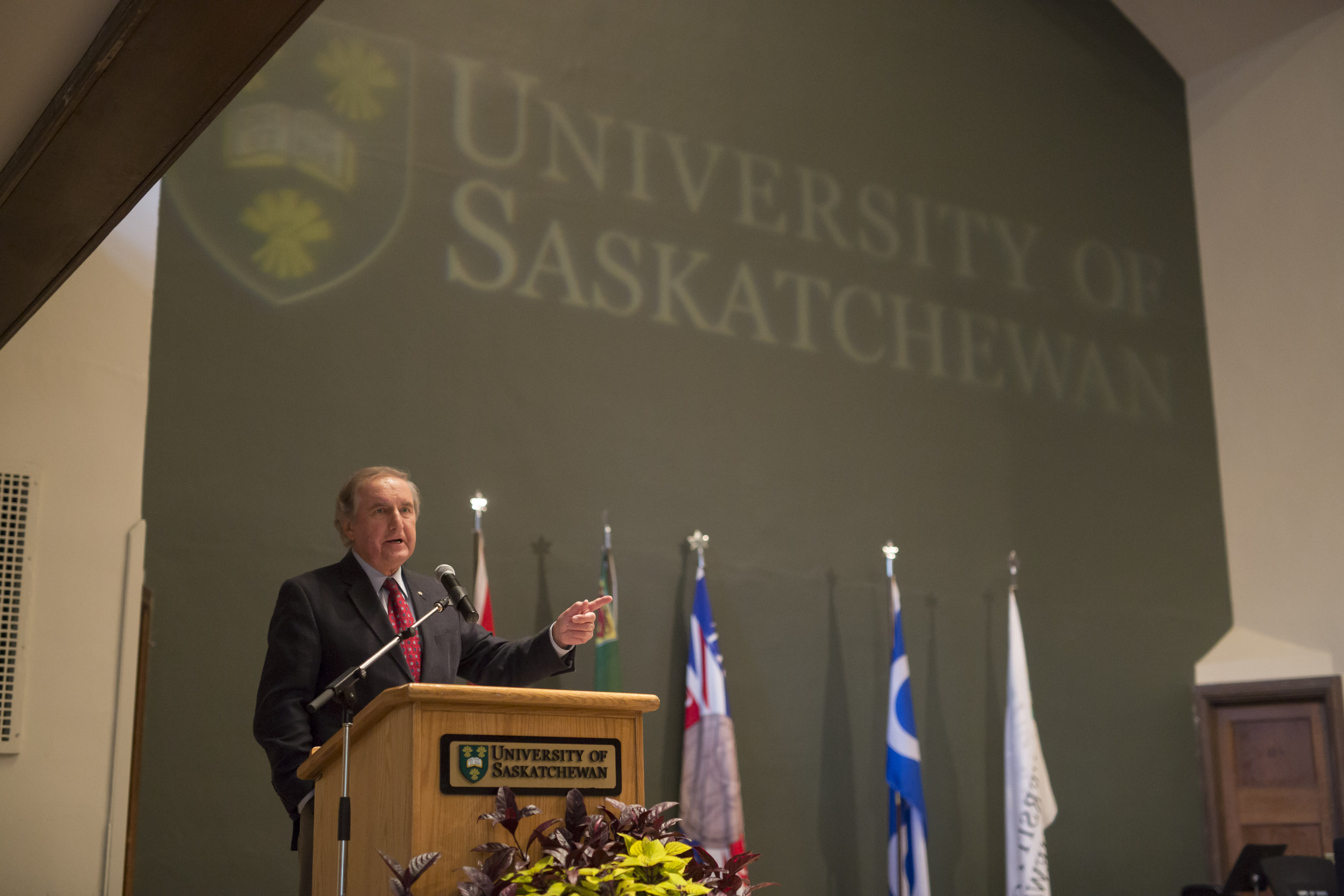 The ceremony concluded with the presentation of the college's entrance awards, which are funded through the generous support of College of Law donors. Dean Phillipson acknowledged the huge difference that receiving a scholarship can make to the students, and how appreciative the college is for its donors' continued support. A full list of the awards and the students honoured can be found below.
With this inspirational and uplifting event becoming a firm College of Law tradition, plans are already underway for next year's ceremony. 
The ceremony can be viewed in its entirety on College of Law YouTube channel.
The Gary and Tammy Bugeaud Centennial Entrance Award
Brandon Prevost
College of Law Academic Excellence Entrance Scholarship
Shay Brehm
Scott Hunter
Wendy White
Christopher Domokos
Mark Elian
Karianne James
The William Elliott Scholarship
Matthew Scott
The MLT Aikins Scholarship in Law
Eric Dulle
Law Society of Saskatchewan Scholarship
Andrea MacDonald
Harris & Lauretta & Raymond Earl Parr Memorial Scholarship
Rebecca Burnand
Gregory Lee
J. Barrie Thomson Scholarship
Shay Brehm
Miller Thomson National Entrance Scholarship
Connor Ferguson
The Law Foundation of Saskatchewan 25th Anniversary Scholarship
Sarah Engen
The Morris and Jacqui Shumiatcher Scholarship in Law
Edward Sacher
The Scotiabank Scholarship in Law
Valerie Warwick
Justice John H. Maher Memorial Scholarship
Jessica Figley
Thomas P. & Peter S. Deis WWH Memorial Scholarship
Darin Gette
P.E. Mackenzie Entrance Scholarship
Tyler Gray
James M. Stevenson Entrance Scholarship
Abbie Treslan
Emily Barlas
Eldon Woolliams Scholarship
Lucas Richards
Michael Munro
Kathleen Newman