Public Advertising Campaign
View and share social media-friendly versions:
SALI Poster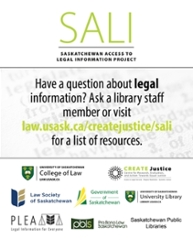 SALI Bookmark

About the project
Lead investigator: Beth Bilson, QC
Collaborator: Brea Lowenberger, Director, CREATE Justice and Access to Justice Coordinator
Public Legal Education Association of Saskatchewan (PLEA)
Law Society of Saskatchewan Library
Urban Public Library (Saskatoon Public Library)
Rural Public Library (Wheatland Regional Library, Southeast Regional Library, and Parkland Regional Library)
University Library, University of Saskatchewan
Innovation and Legislation Division, Ministry of Justice
Provincial Library & Literacy Office, Ministry of Education
Pro Bono Law Saskatchewan
The objective of the Saskatchewan Access to Legal Information Project (the SALI Project) is to increase access to legal information for Saskatchewan residents. This project has emerged in the context of the Dean's Forum on Access to Justice and Dispute Resolution. In its deliberations, the forum identified access to legal information as one of the critical components of access to justice.
 As a first step, a one-day action-oriented meeting was held on Sept. 12, 2016 at the College of Law between several dozen justice stakeholders and library representatives to discuss how library representatives, as intermediaries and credible information providers, could help improve access to justice in Saskatchewan. The meeting was generously supported by a University of Saskatchewan President's Social Sciences and Humanities Research Council (SSHRC) grant.  
A number of themes and action items emerged from the day's discussions, as was documented in the Law Society of Saskatchewan Bencher's Digest, and on the College of Law website.  From the momentum of the event, the SALI Project was established. The SALI Project partners and participants undertook implementing these next steps, such as launching the SALI Project Data Collection Project 1.0, a journal article on the topic, and hosting a conference on the "Role of Legal Information Providers and Public Libraries in Promoting Access to Justice" from October 20-21, 2017, during the Second Annual Saskatchewan Access to Justice Week. The primary purpose for the event was to bring together a large number of public library representatives from rural, remote, and small urban centres in Saskatchewan as well as experts in the topic area, to further address how greater access to legal information can be achieved through partnering with libraries. Again, the project partners are collaborating to implement the ideas for next steps that were identified during the conference.
Some of the steps taken during 2017-2018 included collaborating among SALI Project partners and other library and justice stakeholders to:
Create an online training webinar and accompanying resources for public library staff on "Detecting Legal Problems" (July 2018, updated February 2021);
Launch a public advertising campaign, to make the public more aware of public libraries as an 'access to justice to justice entry point' (i.e. an accessible place to find legal information) (October 2018); and
Undertake a second data collection pilot project, the SALI Project Data Collection Project 2.0, to further understand the nature of legal information inquiries occurring in public libraries (November 2018); and
Engage new partners in the conversation, such as hosting a workshop at the CBA Saskatchewan Branch Mid-Winter Meeting to invite new lawyers to get involved with the project (February 2019).
As we continue to move forward with implementing next steps identified at the 2017 conference, we are interested in hearing from coordinators of projects that engage trusted intermediaries in improving access to legal information. Please contact us at sali_project@usask.ca. In fact, during 2019-2020, SALI Project partners collaborated with legal information providers from other Canadian jurisdictions to launch the National Trusted Intermediaries and Legal Information (TI-LI) Network. Check out the TI-LI Network webpage for more information.
Currently, the SALI Project partners are preparing to launch an online conference on March 31, 2021. Interested in learning more? Contact sali_project@usask.ca for more information, to access links to recordings of the 2017 SALI Conference and the training webinar, and more.
Get involved
Join our Public Advertising Campaign, launched during the Third Annual Saskatchewan Access to Justice Week, October 20-26, 2018. The campaign was established in response to a recommendation at the 2017 conference, as stated above, to make the public more aware of public libraries as an 'access to justice entry point' (i.e. an accessible place to find legal information).
To subscribe to our listserv, which will enable you to communicate and receive communications from others about legal information through our electronic email list, please email sali_project@usask.ca with "subscribe" in the subject line. 
Receive updates about the SALI Project by subscribing to our newsletter.
Questions about the SALI Project? Email sali_project@usask.ca.  
Project news
The Family Law Information Centre, Family Law Information Videos (vimeo.com, October 2020)
Dr. Beth Bilson, QC, Heather Heavin, Brea Lowenberger, and Martin Phillipson, "Research and Action at CREATE Justice", CBA Saskatchewan Mid-Winter Meeting (February 1, 2019)
Melanie Hodges Neufeld, Law Society Initiatives: Saskatchewan Access to Legal Information (SALI) (lawsociety.sk.ca, February 21, 2019)

Melanie Hodges Neufeld, SALI Project – Detecting Legal Problems Videos (lawsociety.sk.ca, April 26, 2019)

PLEA Resource – COVID-19 and The Law (lawsociety.sk.ca, June 15, 2020)

Access To Justice Week Project Highlight – SALI (lawsociety.sk.ca, October 23, 2019) SALI Public Launch (lawsociety.sk.ca, October 25, 2018)

Brea Lowenberger, An Invitation to Participate In SK A2J Week – Events For The Public (lawsociety.sk.ca, October 10, 2018)
Alan Kilpatrick, Saskatchewan Access to Legal Information Project Conference (librarycanuck.wordpress.com, February 1, 2018)
Melanie Hodges Neufeld & Brea Lowenberger, SALI Program Update (Law Society of Saskatchewan Benchers' Digest, Winter 2017) at 18
Public, justice, healthcare and library sectors come together for access to justice solutions (law.usask.ca, November 6, 2017)
Melanie Hodges Neufeld, Saskatchewan Access to Legal Information Conference (lsslib.wordpress.com, October 26, 2017)
Access to Justice Week (saskatoon.ctvnews.ca, October 19, 2017)
Saskatchewan Access to Justice Week - Oct. 19 to 21 (Saskatchewan Library Association's Newsletter, SLAte October 15, 2017)
Brea Lowenberger, Announcing SK A2J Week Events for Members from Other Disciplines – Public Library and Health Sectors (lsslib.wordpress.com, October 12, 2017)
Amanda Jerome, University of Saskatchewan project tackles access to justice issues (thelawyersdaily.ca, May 31, 2017)
Alan Kilpatrick, The Saskatchewan Access to Legal Information Project (SALI) (lsslib.wordpress.com, May 25, 2017)
Brea Lowenberger, Legal information providers gather to discuss access to justice (law.usask.ca, October 7, 2016)
Melanie Hodges Neufeld, Brea Lowenberger, & Beth Bilson, QC, Putting the Public First: Saskatchewan Access to Legal Information Project (Law Society of Saskatchewan Benchers' Digest, Winter 2016) at 6
Related project publications