Like many USask alumni, Hylton grew up in Regina, and began her post-secondary education with a Bachelor of Commerce. But when she got to law school, she knew the next step would not include articling.
"I think, from the beginning, it was fairly clear that I was not going to take a traditional legal path," said Hylton.
Due to that revelation, Hylton found law school to be an isolating experience at times, but she took opportunities when she could to pursue her interests in working with people who were disadvantaged.
While at USask Law, she worked with a classmate to build a pro-bono legal clinic at the Pine Grove Correctional Centre in Prince Albert, Sask., while she further pursued her interests in the area of Indigenous Law with the likes of Professor Norman Zlotkin. She was also involved in CLASSIC with Associate Professor Sarah Buhler.
"The part that I loved about law school was meeting people and understanding their lives—what they were going through and needed help with," said Hylton. "That was something that really resonated."
After law school she went on to work at the Canadian Embassy in Paris, but returned to Regina after her father died suddenly.
"I was just sort of going through the motions and not really sitting back and grieving or thinking about what I wanted my life to look like and how I wanted to contribute to the world," she recalled.
Hylton went on to complete a Master of Laws in Geneva and had begun a PhD program on the intersection of international law and gender when she came to find herself completely miserable.
"I sort of realized that I had just been going this route that I thought I was supposed to,"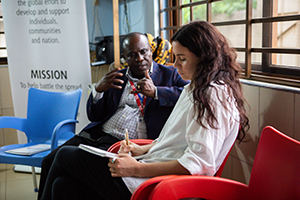 After travelling by herself for a few months, she returned home. She recalls coming to a big revelation while sitting at her kitchen table one night with her now husband.
"We were talking about politics and something that I was outraged by," she recalled. "He asked me why I didn't just write about it and I remember thinking 'I could never do that. Why would I write? Nobody would ever read what I have to write.'"
It was in that moment that the proverbial lightbulb went off.
"I thought, 'Well, why couldn't I do that? Why couldn't I write?' I love writing, I have always loved writing, it's been central to everything that I've done, including in law school," she explained. "Research and writing are just pivotal to everything that I've done."
So, Hylton enrolled in and completed a master's degree in journalism at Columbia University, specializing in investigative journalism.
"This idea of being an investigator and going out into the world to cultivate sources and to dig up documents and to connect with people on a really intimate level is sort of everything that I have wanted, all in one."
She now teaches investigative journalism in SciencesPo in Paris, is an executive in residence at the Geneva Centre for Security Policy, is a fellow at the Alicia Patterson Foundation, and the list goes on.
Hylton is quick to acknowledge that she was privileged to have the resources that allowed her to follow her instincts and dreams, but also explained how one of the secrets to her success has been not accepting 'no' for an answer.
"It sounds so cliché, but I cannot overstate how important that has been for me," she said. "I've received so many 'nos' and I think it is so important to push past it, especially as a woman. Just don't be dissuaded if someone says no."
Despite her list of credentials and articles in some of the most prestigious publications in the world, Hylton is hesitant to admit she has 'made it'.
She has written fairly extensively on issues surrounding the intersection of human rights and gender as well as post-conflict societies, but she is particularly proud of an article published earlier this year in The Walrus. The cover story, "The Search for Mackie Basil", looks at the family of a missing Indigenous woman in British Columbia and their quest for justice during and following the National Inquiry into Missing and Murdered Indigenous Women and Girls.
"This was such a meaningful experience for me to be able to learn more about what this day-to-day grind of having the justice system that serves other Canadians, not work for a large sector of the population," said Hylton. "And I think that was something that I first really started to learn about in law school. So, to be able to go back and explore it was really special."